Images du non linéaire
Vous avez la possibilité de proposer une image illustrant un des thèmes du non linéaire, au sens large, afin qu'elle soit incluse dans cette collection. Elle sera mise en ligne après avoir été visée par le comité éditorial. Il est entendu qu'une image ne sera soumise qu'avec l'autorisation explicite des auteurs.
[Soumettre une image]
Si vous voulez agrandir une image, ou lire l'intégralité d'une description tronquée, cliquez sur l'image.
---
---
Chaîne de gouttes marcheuses
B. Filoux, M. Hubert, N. Vandewalle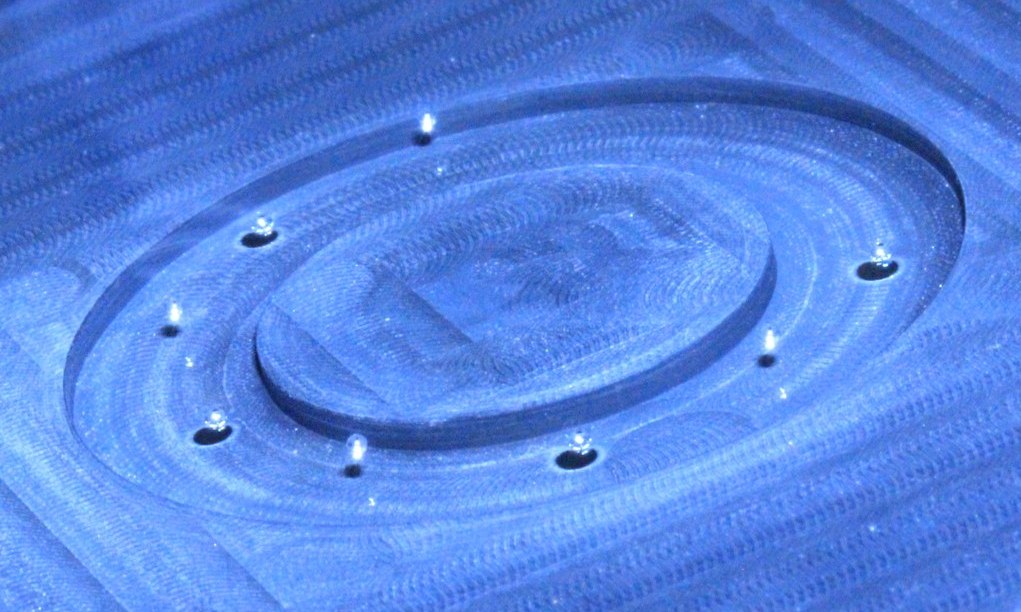 Soumis le 17 Mar 2015 par Boris Filoux
Mot(s)-clé(s) : marcheurs, gouttes rebondissantes, onde cohérente
Chaîne de huit gouttes marcheuses se déplaçant au sein d'une cavité annulaire. Toutes les gouttes sont placées à la même distance, et suivent une trajectoire circulaire. Les marcheurs sont en opposition de phase, comme l'indique l'ombre au dessous des gouttes. A chaque rebond, les gouttes émettent des ondes qui propulsent la chaîne. L'onde, dans ce cas précis, est cohérente et propulse la chaîne à une vitesse nettement supérieure à celle prédite dans le cas d'une goutte seule. @ http://grasp-lab.org
Simulated transverse fluence pattern of a high power laser
Wahb Ettoumi, Jérôme Kasparian, Jean-Pierre Wolf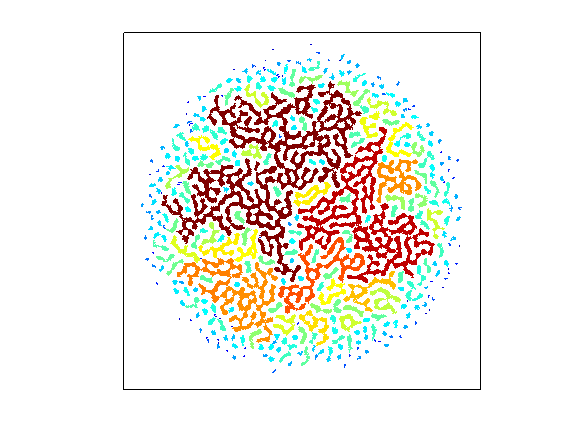 Soumis le 16 Mar 2015 par Wahb Ettoumi
This image shows the simulation of a high power laser cross section, which has been processed so as to feature only islands of light exceeding a certain amount of power, which were in turn colored according to their relative size. This clustering of light into zones of high (colors) and low (white) intensity results from a linear instability in the non-linear Schrödinger Equation, and is found to exhibit statistical properties reminiscent of those of percolation problems.
Partial Coalescence of Soap Bubbles
Giuseppe Pucci, Daniel M. Harris, John W. M. Bush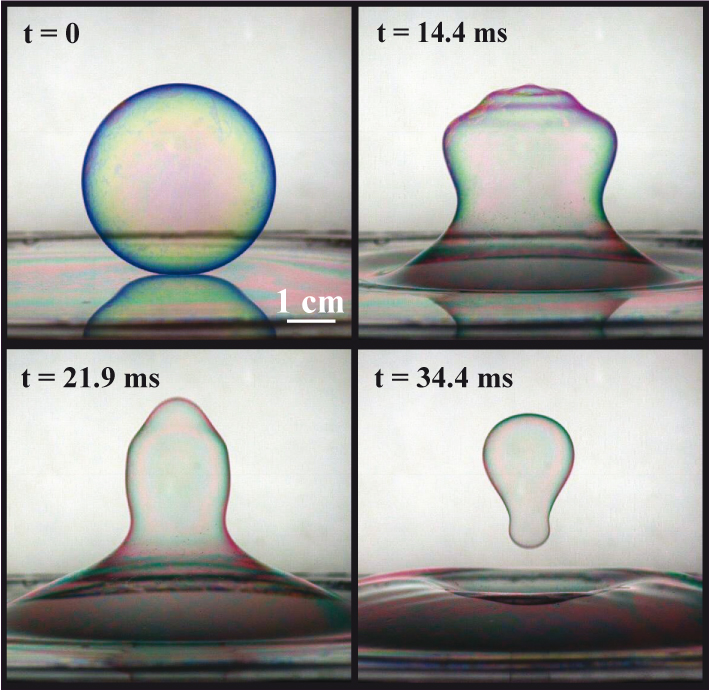 Soumis le 13 Mar 2015 par Giuseppe Pucci
Mot(s)-clé(s) : Partial coalescence, bubble, soap film, surface tension
In this image we see four steps of the partial coalescence of a soap bubble on a soap film. The bubble is gently deposited on the film. The film at the point of merger ruptures, so the high pressure air inside the bubble is evacuated. One might expect complete coalescence, that the surface would simply return to a planar configuration in order to minimize the overall surface area. Instead, capillary waves sweep up the bubble and initiate pinch-off, resulting in a smaller daughter bubble. The daughter bubble has approximately half the radius of its progenitor. The process repeats itself up ...
---
---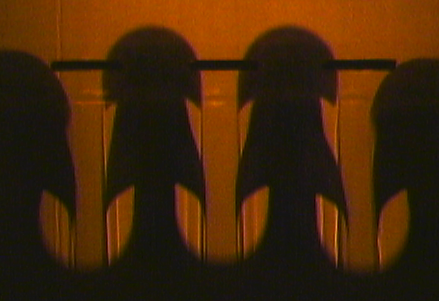 Instabilité non linéaire de Rayleigh-Taylor (plus de détails...)
International Conference on Magnetic Fluids – ICMF 2019, Sorbonne Université, Paris, France, 8 Juillet 2019
International Conference on Magnetic Fluids – ICMF 2019, Sorbonne Université, Paris, France, 8 Juillet 2019
International Conference on Magnetic Fluids – ICMF 2019, Sorbonne Université, Paris, France, 8 Juillet 2019