[Retour à la liste des conférences]
Vous pouvez vous rendre sur le site de la conférence en cliquant sur l'image ou sur le lien indiqué.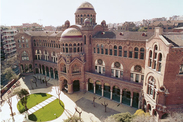 Barcelona, Spain
30 Mai - 2 Juin 2017
The principal aim of Chaos2017 International Conference is to expand the development of the theories of the applied nonlinear field, the methods, empirical data and computer techniques as well as the best theoretical achievements of chaotic theory. Chaos2017 Conference provides a forum for bringing together the various groups working in the area of Nonlinear and Dynamical Systems, Chaotic theory and Application to exchange views and report research findings.
---

Onde solitaire stationnaire de symétrie impaire (plus de détails...)
Nonlinear phenomena in dispersive equations, Lille, 22 Mai 2018
Experimental Chaos and Complexity Conference, Madrid, 4 Juin 2018
Wave Turbulence and Extreme Events, CISM in Udine (Italy), 18 Juin 2018