[Retour à la liste des conférences]
Vous pouvez vous rendre sur le site de la conférence en cliquant sur l'image ou sur le lien indiqué.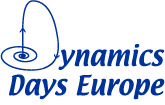 Loughborough University
3 Septembre - 7 Septembre 2018
Organisateurs : Wael Bahsoun (Conference Chair)
Dynamics Days Europe is a series of annual international conferences founded in the 1980s that provides a European forum for developments in the theory and applications of nonlinear dynamics. For over thirty years it has been bringing together researchers from a wide range of mathematical backgrounds for interdisciplinary research in nonlinear science.
The 38th Dynamics Days Europe will be hosted at Loughborough University. Dynamics is a main research theme in the Department of Mathematical Sciences at Loughborough University. In particular, Loughborough is widely recognised as one of the leading research centres in integrable systems in the UK. The Centre for Nonlinear Mathematics and Applications hosts researchers in all areas of dynamical systems, including perturbation theory, ergodic theory, stochastic dynamical systems, nonlinear PDEs, biological systems, waves and vortices in geophysical fluid dynamics. We look forward to welcoming you at our dynamic university.
Important dates
Deadline for early bird registration is 30 March 2018. Full (including en-suite accommodation and meals) early bird registration fees are: £480 for academics and £400 for students. Basic (without accommodation and meals) early bird registration fees are: £160 for academics and £120 for students.
Deadline for registration with accommodation on campus is 25 May 2018. After this date you have to find your own accommodation.
Submission of proposals to organise minisymposia was closed on 15 December 2017. For the possibility of submitting a contributed talk please contact Wael Bahsoun W.Bahsoun@lboro.ac.uk
To submit a title and abstract, please register first and then contact a session organiser to discuss the possibility of giving a talk. Deadline to submit titles and abstracts of accepted talks is 01 July 2018.
---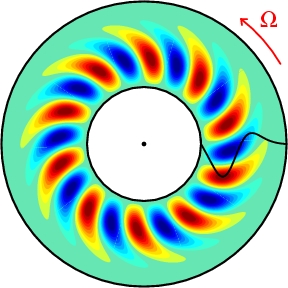 Onde de Rossby thermique (plus de détails...)
International Conference on Magnetic Fluids – ICMF 2019, Sorbonne Université, Paris, France, 8 Juillet 2019
International Conference on Magnetic Fluids – ICMF 2019, Sorbonne Université, Paris, France, 8 Juillet 2019
International Conference on Magnetic Fluids – ICMF 2019, Sorbonne Université, Paris, France, 8 Juillet 2019